Sir John Stainer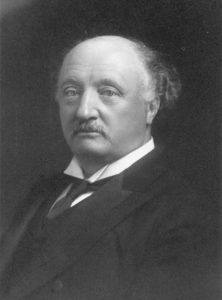 Stainer werd geboren op 6 juni 1840 in Southwark, Londen. Als 8-jarige jongen zong hij  mee in het koor van de St. Pauls Cathedral. Als 16-jarige jongen werd hij benoemd tot organist van St. Michael's College in Tenbury. In 1860 werd hij organist van Magdalen College in Oxford. Daar volgde hij een studie muziek. In 1872 volgde hij zijn leermeester John Goss op als organist in St. Pauls Cathedral waardoor hij terugkwam in de kerk waar hij als koorknaap was begonnen. In 1889 werd hij hoogleraar in de muziek aan de Universiteit van Oxford. Stainer schreef veel kerkmuziek, waaronder het oratorium 'The Crucifixion' en veel hymne's. Sir John Stainer overleed in Verona aan een hartaanval op 31 maart 1901. Hij werd begraven bij St. Cross church in Oxford.
Oratorium "The Crucifixion"
'The Crucifixion' is gecomponeerd in 1887 door Sir John Stainer. Het oratorium is een meditatie over het lijden van de Heiland, dat door Sir John Stainer is opgedragen aan zijn leerling en vriend W. Hodge en het koor van de kerk van Marylebone in Londen. Dit koor was een typisch Engels kerkkoor, dat voor een groot gedeelte bestond uit jongensstemmen. Stainer was een integer en gevoelig man, met een goede literaire smaak. Hij koos voor dit werk de tekst van J. Sparrow-Simson. En bij het op muziek zetten van deze tekst zocht Stainer naar een verhoging van de emotionele uitwerking van de vocale lijnen, door het orgel een orkestrale rol te laten vervullen. Met als gevolg, dat men voor de uitvoering van dit werk een groot orgel met zwelkast en speelhulpen nodig hebt. The Crucifixion bestaat uit beschouwende koorwerken en koralen die door middel van recitatieven aan elkaar zijn verbonden. Het werk is geschreven voor tenor solo, bas solo, koor en orgel.  en waarbij het de bedoeling is dat de koralen in wisselzang door koor en gemeente gezongen worden.
De intentie van dit werk is op uitnemende wijze verwoord in het slotkoor van dit oratorium, van waaruit Sir John Stainer dit werk heeft gecomponeerd en bedoeld. Het is een oproep tot de wereld om niet aan het kruis voorbij te gaan. "Doet het u niets, dat Jezus zo voor ons heeft geleden? Mensen, ga er niet aan voorbij; kom tot Hem, want Hij heeft het alles voor u gedaan."
John Stainer, born in 1840, is one of the outstanding figures in the history of ninetheenth century Enlisch church music. He was a gifted child and already a competent player by the time he became a chorister at St. Paul's Cathedral in 1847. He studied with Engeland's foremost teachers, and made such good progress that in 1857 he was appointed organist of St. Michael's College, Tenburym by the founder Sir Frederick Ouseley.
Four years later he moved to Magdalen College, Oxford, as organist, while studying for a B.A. degree at St. Edmund Hall. Throughout his undergraduate life he took an active part in Oxford's musical life. In 1865 he took the D. Mus. degree, and moved in 1872 to London to become organist of St. Paul's Cathedral, where he made enormous improvements in the standard of singing.
His activites embraced all fields of academic and cathedral music and he held posts at various times at the Universities of Oxford, Cambridge and London, at the Royal Academy of Music, the College of Organists and the National Training School for Music. Failing sight forced him to leave St. Paul's in 1888, the year in witch he was knighted. The following year he was appointed Professor of Music at Oxford. He died in Italy in the spring of 1901.
Stainer was u superb organist, and a especially gifted accompanist. He was also one of the first musicians to take musical research seriously. As a composer, he is best know for The Crusifixion, but he also wrote many anthems, services and hymns as well as three other major works. His eight-part anthem I saw the Lord is one of the finest church compositions of the period. Stainer's music is rewarding for performer and listener alike.
George Guest wrote in `The Musical Times` of February 1959: It's probably true that as an all-round scholar and musician, Stainer was unrivalled in this country. His many papers published in the Proceedings of the Royal Musical Assiociation are proof of the former – as is his book on Dufay, which is still a classic – and contemporary accounts of his skill as an organist and choir-trainer show that at least he deserves the respect and admiration which he does not always receive. His music, and that of his contemporaries, particularly that written for cathedral use, should be re-examined objectibely, for it is certainly more typical of its age than most being written today is of ours, and much of it is good music by any standards. Given an unprejudiced re-examination, one venture to prophesy that many pieces which are now despiced would again find their places in cathedral service lists. It is so fatally easy for one to allow public taste to colour one's judgment"
The Crucifixion
The Crucifixion, composed in 1887, is scored for tenor and bass solists, choir, congregation and organ, and was dedicated to Stainer's pupil and friend W. Hodge, and the Choir of Marylebone Church.
The work follows the traditional Passion in construction, the biblical text interrupted by reflective and devotional comment. It opens with a short itroduction, and the story is taken up as Jesus comes to Getsemane with the diciples (Tenor recitative): this lead to a passage for Bass and chorus, ""Could ye not watch with me one brief hour?". Then come the arrest, trial and comdemnation of Christ, told in a dramatic passage for narrator (Tenor), Christ (Bass) and Pilate (bass voice from choir).
The procession to Calvary is symbolysed by a march played on the organ, whitch is expanded by the choir to the words "Fling wide the gates". Stainer incidentally left two instructions only for the registration of the organ, one of which, tuba, appears shortly after the first choral entry. The text contrasts Christ's coming victory over death with the humiliation of crucifixion, and in a central passage the Tenor sings of the Saviour's love in taking on himself the world's sin: the choir brings this section to an end in a mood of quiet resignation.